6 February, 2017
The weekend was all about the "grandkids", i.e. Penny's puppies. Friday, Stella came for a trim. Here she is afterwards with Mummy.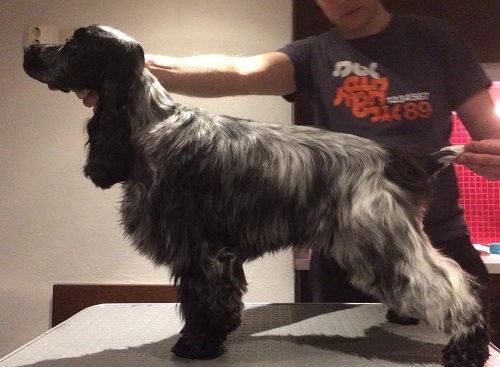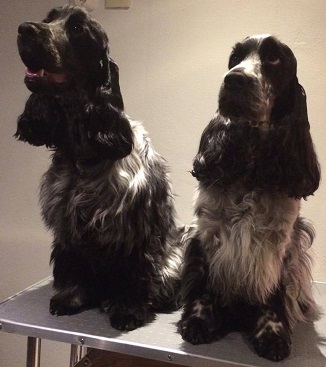 Saturday I went to the SSRK/Östergötland show in Mjölby. None of my own girls were entered, however, Penny's daughter Mia was. I was honoured to handle her in the ring and we did better than expected - she won her class with HP, Best Puppy of Breed and 3rd Best in Show! I'm chuffed, huge congrats to owner Marie.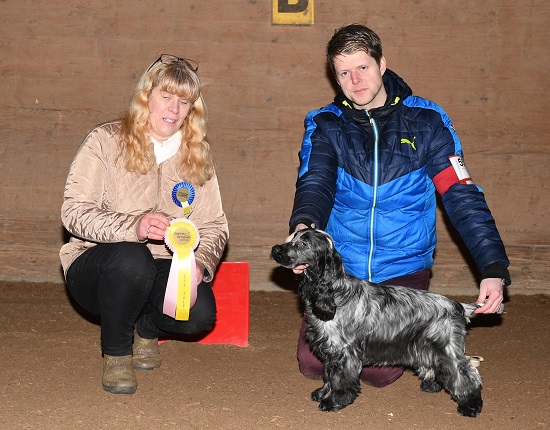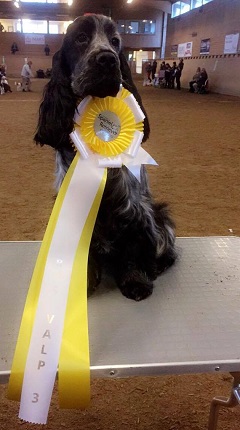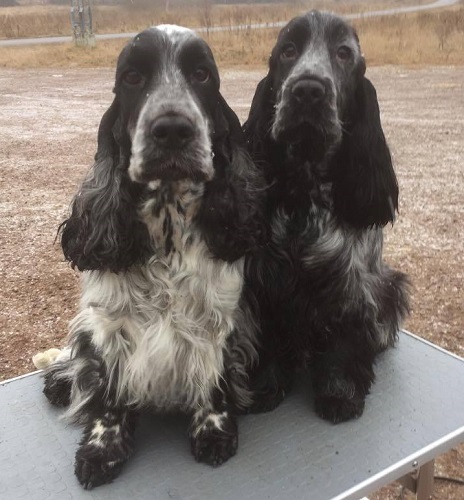 ---
11 January, 2017
Geri was Best Puppy of Opposite Sex under Mr. Rui Oliveira at the MyDog show Saturday!
---
31 December, 2016
Since early October, we have a new kid on the block. We just love our Geri!
---
9 August, 2016
On our final trip this summer (and this year?) we went to Liepaja, on the west coast of Latvia. Double national show again. I was, once again, accompanied by my Mum (what a relief not having to deal with everything single-handedly). We stayed at a Guest House i Nica, some 20 min from the Daugava Stadion showground. During our stay we also managed to squeeze in a trip to a Holocaust Memorial site, get a swan off the road and play mini golf!
Latvia has similiar show rules to us: only one CAC awarded per sex and CQ is needed to continue competing for Best Dog/Bitch. In other words, Rosie needed to win Best Bitch at least one of the days to be secure the championship title, if so, it would be her ninth.
There were 3 Cockers entered on the Saturday, all of the bitches. A Slovenian lady named Marija Kavcic judge (previously unknown to me but a very sweet and kind lady who went over all of her entries with a smile). Rosie was the only champion won that class with CQ and fortunately also Best Bitch with CAC and thus LATVIAN CHAMPION and BOB! After many hours wait it was finally time for the group final, where Rosie quickly was placed 5th.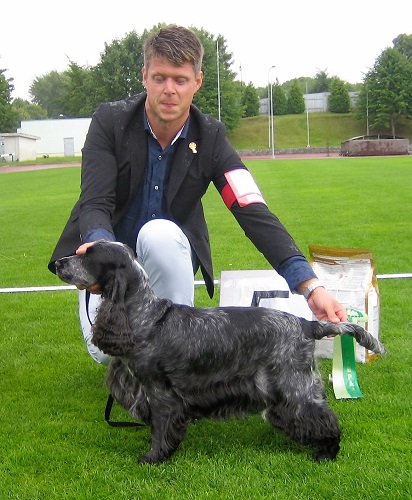 "7 year old in perfect condition, beautiful head, strong, full body, well carried tail, good movement, good coat."
On the Sunday there was also a dog entered, making the total four. Any win this day would be an additional bonus, as I got what I came for the day before. Once again a really nice judge, Mr Rafael Malo Alcrudo from Spain. Rosie repeated yesterday's achievement and won Best Bitch. She beat the dog in the competition for BOB (her fourth this year and sixth in total) and finished as 4th of Group!! The group final was judged by Mrs Olga Kosareva from Russia.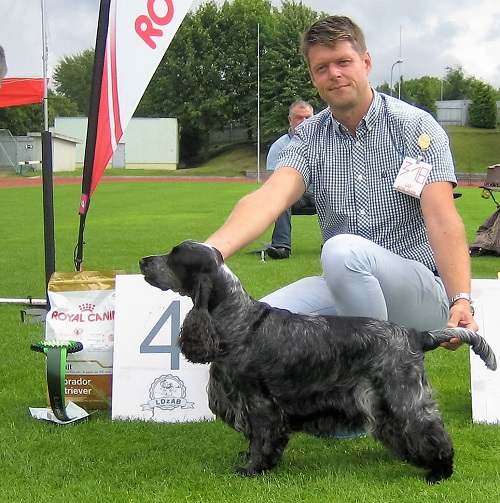 "Feminine & substanteous, excellent type & format, feminine head, correct neck & forechest, excellent shoulders & ribcage, good topline, croup a bit short, good temperament & typical mover."
---
28 June, 2016
Yet again we've spent a weekend abroad at a show (Szczecin, Poland). This time I was fortunate to have my dear Mum with me, whose help was indispensible! As usual, we stayed at a hotel, this time just 2 km from the showground meaning the best option was to leave my car in the hotel carpark and pull all our stuff all the way. That worked out quite well. On the Sunday we didn't have much choice since there would be a marathon in that particular part of the city (=closed off road). I had kind of given up the thought that all would go according to plan since Rosie is very much in heat and doesn't move as well as she normally does. If my Mum hadn't already booked her flight and hotel I would have stayed at home.
Saturday (and Friday) was scorching hot with temperatures over 30 degrees! I was hoping for Rosie to win Champion Class with CAC, everything else would be a bonus. German Mr. Axel Komorowski was judging. It went a lot better than I had hoped. Apart from winning the class and receiving her 11th CAC, she was Best Bitch and BOB (her third)! We spent most of the day waiting for the finals. Out of five dogs in Group 8 Rosie was placed 3rd - what a great day!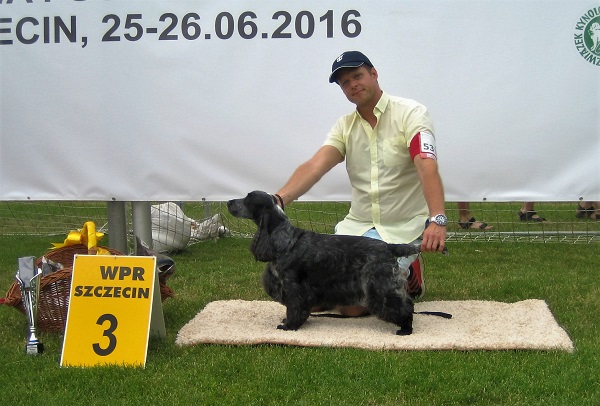 "Sehr elegante Hündin, sehr gute Proportionen, exzellente Behaarung, eleganter Kopf, gerader, fester Rücken, korrekte Winkelung, korrekter Bewegungsablauf."
Sunday morning was considerably cooler and there was also some rain. As the previous day Rosie won the class with CAC - thus becoming POLISH CHAMPION!!! At last we obtained some of the goals! Just like the previous day she was Best Bitch, BOB and 3rd of group!! Judge for the day; the young and very nice Ms. Aneta Dopierala from Poland.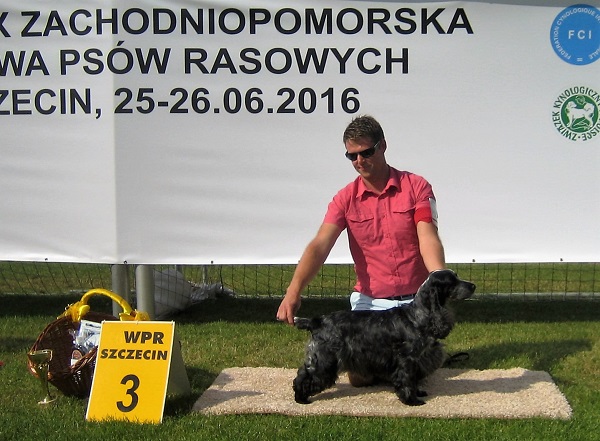 "Elegant bitch with a beautiful head, good line of neck and forechest, well laid back, smooth action, very nice coat colour, excellent grooming."
Our last show trip for this summer will be Latvia in the beginning of August!
---
8 June, 2016
We spent the weekend 28-29 May at the double international shows in Moletai, Lithuania, hoping to get the Lithuanian and maybe also the International Champion titles. No such luck! Rosie was 2nd in the Champion Class on both days in the sweltering heat (I sometimes wonder why I expose both myself and my dogs to these conditions). On the Saturday I helped Katarzyna Szyffer (COOLGANG) who won both BOB and BOS with her dogs. I later received some lovely photos from Katarzyna Piechocka, thank you very much!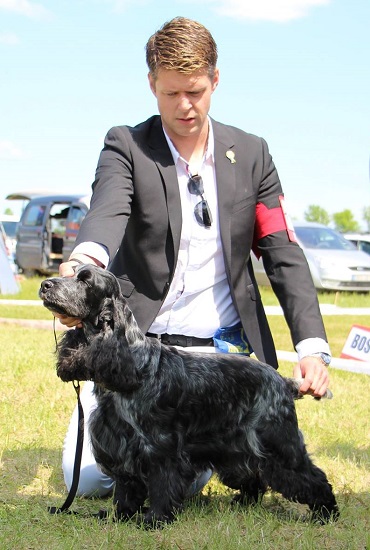 ---
7 May, 2016
23-24 April we went on quite a long trip down to Opole in the south of Poland. Not easy to say something positive about this adventure. Made a wrong turn and ended up on a toll road towards Germany, road works, accidents, more wrong turns, not-so-good food, a most peculiar judge, class win without CAC or CACIB were some of the events. The trip back home was the best part. Ah well, we'll put this behind us and try again in Lithuania in the end of this month.

---
5 April, 2016
Finally, it's available online! This makes it feel more official. Just one more to go now!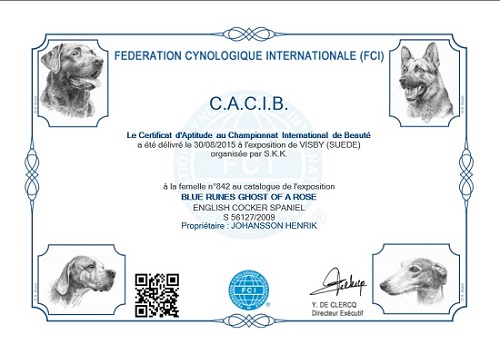 ---
31 March, 2016
A snapshot of how far we've come to this date. As you can see, still some work to do before it meets my standards of presentation.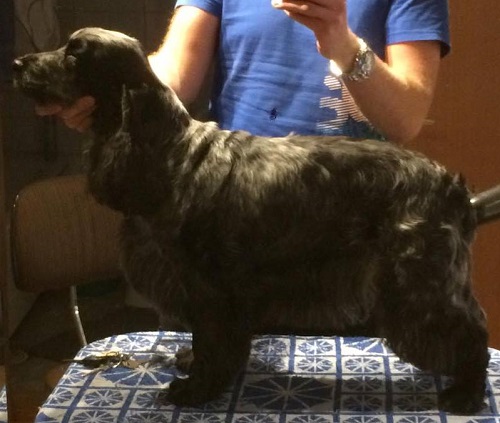 ---
23 March, 2016
We're in training for the show in the south of Poland next month. When travelling that far and spending that much money, everything has to be shipshape. This will be the first of several shows abroad this year. In the meantime, we're waiting for Penny to come into season...
---