28 November, 2012 : Puppy Show & Sad News
Last Sunday we were once again off to a show, a bit closer to home this time, the Östergötland Kennel Club Puppy Show at Mjölby Equestrian Centre. Judging was the unapproved Nicklas Eriksson, so it was all about Penny getting some more experience in the ring. There has to be something about Equestrian Centres because just like down in Åstorp she was all over the place, even more so this day. In spite of all this she managed to "trot" her way (well, bounce would be a more accurate word) to a class win with HP and since the puppy dog was a no show, she also was Best of Breed! So, we had to stay a bit longer waiting for the Group final where she, if possible, trotted even less and was even more mischievous than earlier. However, this didn't stop her from being placed 4th out of quite a lot of puppies. Personally, I have never understood the purpose of or appreciated group competitions, so how we do there is irrelevant. It's the BREED judging that matters! I took this photo of the little hurricane when we came home.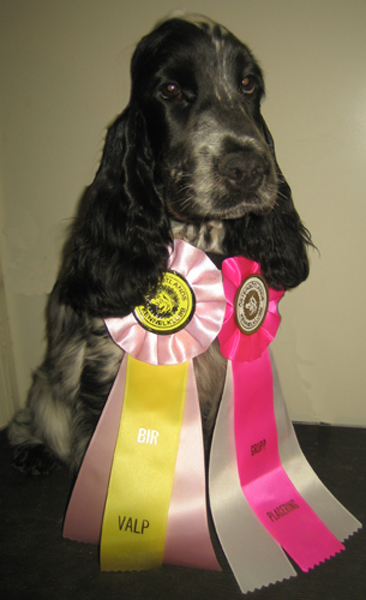 Yesterday I received a very sad e-mail. Choc Ice I Should Be So Lucky, called Sandy in her new home, was given sleep about a month ago, at not even 5 year of age. The whole Sandy story is very sad and she was rehomed twice in her short life. A visit to the vet's revealed that she was suffering from "chronic deforming osteoarthritis in the hip joint" and had most probably been in a lot of pain for a long time, a very plausible explanation for her untypical behaviour. Huge thanks go to her new Mum Britt Ahlstedt for giving Sandy a good life in her last year and also for making the right decision to save little Sandy from further suffering.
14 November, 2012 : Trip to Skåne
This weekend we travelled to the very south of Sweden as Penny was entered to her very first shows. Our first stop was the Championship show in Åstorp where Norwegian Stig-Arne Kjellevold did the honours. I must confess to not training Penny enough and she was in her usual mood, full of fun and mischief, but I prefer that to a scared dog who just wants out. She ended up 4th in Minor Puppy without (!) an HP but lovely critique: "4 months. Very appealing make and overall impression with correct proportions. Fabulous head. Lovely neck. Just about right angulations in front and rear. Good body for age. Compact feet. Happy movements. Excellent coat. Well presented."
As for Sheena I just wanted an Excellent, my aim being to improve her statistics a little (at her last show about a year ago she was given her first Very Good). All went according to plan, but she wasn't placed later in the competetion. Her critique: "Excellent size and type. Feminine, well chiselled head with soft expression. Good neck. A bit straight in front. Well bodied. Correct topline. Normal angulations in rear. Just about right bone. Compact feet. Would like her to be slightly more free moving and collected in the front. Excellent coat. Lovely temperament. Well presented."
When the show was finished we continued our journey even further south to Malmö to stay a friend's flat right in the city centre. Thank you, Linus! Now I've watched two and a half of the first Paranormal Activity films (I nodded off a number of times during the third). Sunday morning meant we didn't need to hurry since the exhibition centre was only some 4 km away. The judging went rather slowly when we got there so I had plenty of time to train Penny resulting in more trotting than the previous day, still with the wagging tail and exuberant attitude. Our judge for the day was Kerstin Henriksson (approved to give CACs in Cockers). Much to my delight Penny won her class of 6 with HP and this meant she was about to compete against the other class winners, 6-9 and 9-12 months, and she, at only 4 months and 3 days of age kicked the others' butts! In the Best of Breed competetion it was her against the dog Haradwater Dare to Dream who had won the CAC and BOB in Åstorp, and she ended up as Best of Opposite Sex! I didn't mind this at all, partly since I had a terrible cold and wanted to go home.
9 October, 2012 : New Addition
Nearly two weeks ago we got a new addition to our family. Welcome Claremark Karen Walker, Penny for short. I'm working on making a page for her, as well as for Rosie, who will move back in with us, more or less permanently this time. Sheena and Penny play with each other several times every day and seem to get along very well. About a week ago we moved to the village of Vikingstad just outside Linköping (Sweden's 5th city), and we're hoping to stay here for good period of time.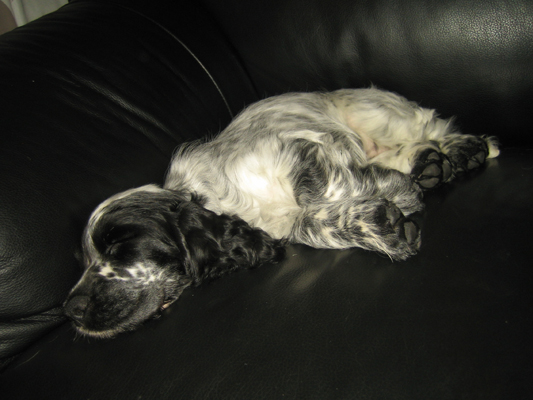 VIDEO: Penny and Sheena, playing like maniacs in our garden.
27 August, 2012 : A Huge Loss
My beloved Bruno is gone. He passed away at Valla Animal Hospital in Linköping the day before yesterday at 2.40 pm. He wasn't quite his normal self the last days and that morning he was in so much pain he could barely walk, didn't want to have his lead put on. In the winter of 2007 he was diagnosed with a mild version of "slipped disk" at Strömsholm and it has came back from time to time, at which point he has been on painkillers. He has also shown signs of senility. Every time he has been in too much pain I've felt it would be best to let go of him, but was always persuaded to give it some time. During his last 3.5 months he was on continuous medication. But the time seemed to have come. It was so painful for me to see him like this, knowing he would never be well again and I felt this is enough. The last thing I want for my dogs is to be unwell and in pain. He's in pain no more. We had nearly 11 years together.
Bruno was special, to say the least. Nearly everybody who came into contact with him loved him. He was very, very kind. Loved when people gave him cuddles or treats, then he stuck to you like glue. Bruno leaves a big void that no other can fill... I will always love and miss him. These photos are from the day before he passed away.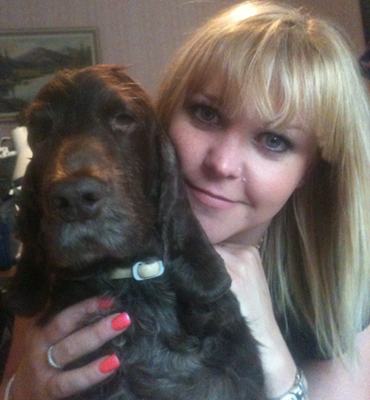 4 July, 2012 : Summary Shows
And so ended the showing tour in Borås. Rosie was once again given Excellent but unplaced in the class. We have been to 8 shows in all; and she's been given Excellent every time. Three times she has been placed, twice with CK. She also won a CAC. All in all, an OK (but not more) tour. She has now returned to her home at
Cannervikens Kennel
where she will hopefully become a Mum for the very first time this autumn. If all goes well, she will also have a litter here at Choc Ice sometime next year. To read more about this, please visit the Puppies page.
20 June, 2012 : A CAC at Last
Once again a lot to do at work and quite frankly I lost the will to update this page after the disastrous show weekend 26-27 May where Rosie was once again given Excellent but unplaced. The following weekend we went to Norrköping where she was placed but not awarded CK. But after all these disappointing shows, there is finally something fun to write about.
This past weekend we travelled south to Småland with the intention of showing at the Gränna National Show. My deepest thanks to the very sweet
Johan
for offering accommodation over the weekend! :) Judging this day was Swedish Ms Sara Nordin, who I has liked Rosie's mother so I knew there was a possibility she would like the daughter too (since they are so much alike). Rosie was in a great mood, showing happily and ended up
winning her class with CK
! This meant there was a chance she would win the CAC but I dared not get my hopes up. However, to many people's delight, she was placed
3rd in the Best Bitch
class after 2 champions - and thus the
CAC
was ours!! What a feeling, incredible!! Thanks to all who congratulated us at the show and on Facebook! This also means that Bruno now has sired two CAC winning daughters, great job old man! ;)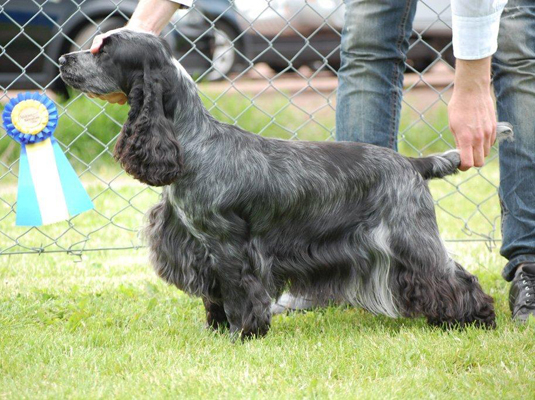 18 May, 2012 : The First Ck
Due to a heavy load of work this update has been delayed until now. On Saturday we went to the SSRK Östra Club Show at Ulriksdal Castle - the first outdoor show of the year (for us). Once again a Finnish judge, this time it was Spaniel specialist Marjo Jaakkola. I shared my tent with Arne and Alex (Allert's Evening Express) and Sophie, Carin and Kotten (Elmers Goldmine Your My Angel). Alex is one of my nowadays very few trim clients and this day he won his third CK in a row - from the same trimming session! Much to Sophie and Carin's delight Kotten was finally given an Excellent and placed in his class. I was so happy for them, knowing how hard they've struggled! Personally I was quite displeased with Rosie's bath, the coat did not turn out good at all. On top of this, she refused to poop in nearly 24 h and it's always nerve wracking to enter the ring under those circumstances. However, she behaved perfectly as always and was in the final four of the quite big Open Class - and ended up as 3rd with CK! It felt nice to finally get some credit for all the time and energy I've put into that dog in the last 3 months. There are unfortunately no photos of us from this show, but here is one we took before the previous show - and a video clip!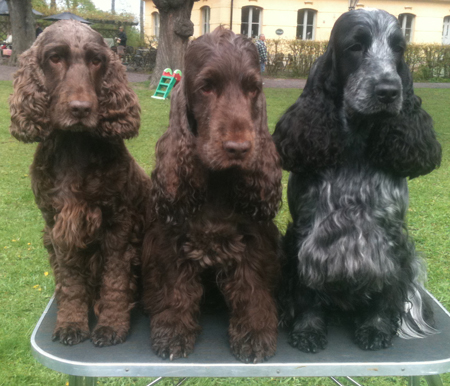 VIDEO: Rosie, moving up and down.
1 May, 2012 : Show at Rocklunda
On Sunday we went to the Wästmanlands Läns Kennel Club Show at Rocklunda, Västerås (our old hometown). Finnish Hannele Jokisilta was judging. Same result as the previous show; Rosie was given Excellent but unplaced. On the other hand I'd like to think that she's in far better condition now after all that cycling I've been doing with them for several weeks (based on Mrs S's recipe). We will not be defeated by this, instead we will continue on this track and our next attempt will be at home at the SSRK Östra Club Show at Ulriksdal Castle in barely 2 weeks.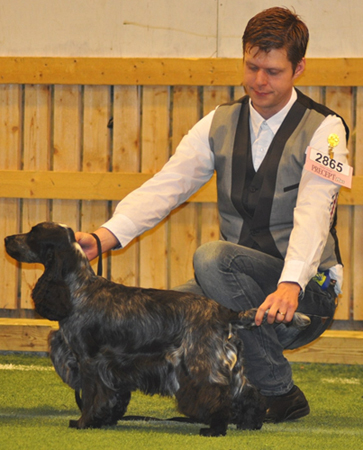 26 March, 2012 : Show in Högbo
First Championship show over and done with. Spaniel specialist Mrs Annika Ulltveit-Moe judged The Spaniel and Retriever Club Gävleborg section show. No amazing results, nevertheless Excellent and unplaced is not too bad... We haven't been able to exercise to the extent I had planned due to my stubborn infection. Thank you Annika Varbäck for letting us go with you in the car, and also for the tasty buns!:)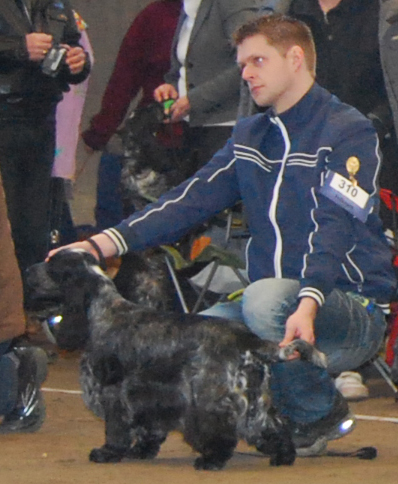 17 March, 2012 : A Fun Win
Today we went to our second Open Show. This time not so far away, just 15 km. Judging today was Tina Cederstrand, who is not an approved judge but if she's still a nice person and good with the dogs why should I care? ;) Rosie started by winning the Open Class (3 entered) with HP, then Best Bitch (out of 7?), Best of Breed, and much to our delight also the Group finishing as 4th in the Best in Show final! Thanks to Stina and Annika for making this day so enjoyable and also for the lovely photos.
Coming up - the Spaniel and Retriever Club Championship Show next weekend...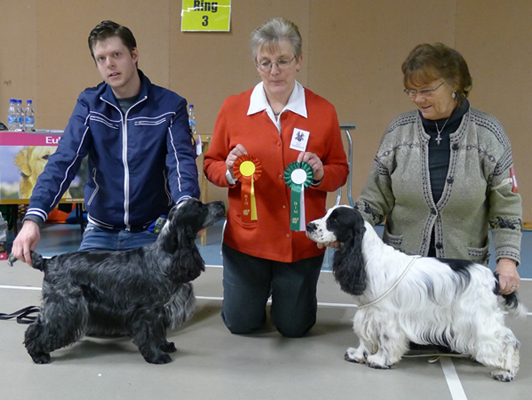 27 February, 2012 : Show Debut
First Open Show over and done with. We travelled some 480 km down south to the village of Sätila and showed "Miss Bootcamp Project" under Cocker judge Rune Brunberg Johansen. The classes were Puppy, Adult and Veteran, meaning Rosie would compete against 5-6 other bitches of different ages. She behaved very well on the table and moved ok. First we were placed third but after a couple of laps we finally ended up second with HP - and a nice critique.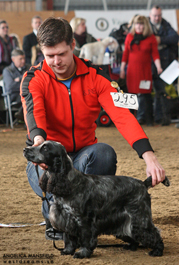 13 February, 2012 : New Project
My new "Bootcamp Project"! We'll be seen at a Championship and two open shows in February/March. Perhaps others later on.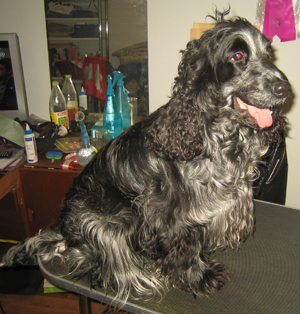 10 February, 2012 : Bad Hd Result
Yesterday I went to have Sheena hipscored and unfortunately it didn't look too good. The results came today and it's C-C, which means she too is not suitable for breeding. Hey ho...