6 June, 2015
Rosie and I went to Lithuania, Molétai to be precise, to take part in two international shows 23-24 May. I was hoping for her to get another CACIB. When the entries were published on the LKD website I suffered a mild(ish) shock! Thirty-two cockers, compared to the around five I thought would be a much more plausible (not to mention suitable) number. On the Saturday Norwegian breed specialist Mr Svein Helgesen (TANAC) was doing the honours. Rosie won the Other Colours Champion Class, with CAC and was placed 4th in the CACIB competition. Ah well, there were many Very Good awarded that day so I guess one should be quite pleased, nevertheless.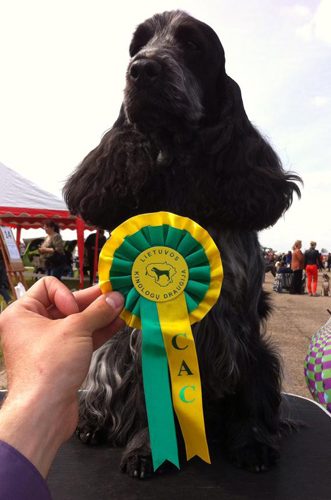 "Excellent type. Could be more compact. Excellent head and expression. Excellent neck and topline. Very good body and tailset. Well angulated. Excellent coat quality. Very free and stable on the move."
The next day, under Portuguese Mr Rui Oliveira, Rosie once again won the Other Colours Champion Class, with another CAC but was not even shortlisted in the CACIB competition. I wasn't too upset about this since we were going back home later in the evening and the ferry was some 340 km away. Critique of the day: "Very nice head. Good front. Would prefer shorter back. Good topline. Nice ???. Nice shoulders and neck. Good movement."
Lithuania left me wanting more - I could see myself going back there (unlike Moldova)! Lovely scenery, nice and friendly inhabitants and very reasonably priced food. Later this summer we'll be travelling to yet another exciting and unknown (at least to me) country - Poland!
---
14 April, 2015
Rosie is not the only successful one in our family. Penny, who has been quite good at eating her food lately, and I went to the Österötland Kennelklubbs open show on Saturday. Still bonkers as always but hopefully she's making progress. Since the judge, Ms Annelie Karlsson is a newly approved Cocker Judge I was extra pleased with Penny winning her class with HP and ending up BOS! BOB/BOS photo is available on Mrs Madeleine Ivarsson's blogg (personally, I think it's interesting to compare these two dogs).
Our Open Show Training Tour continues, Saturday we'll be in Nässjö.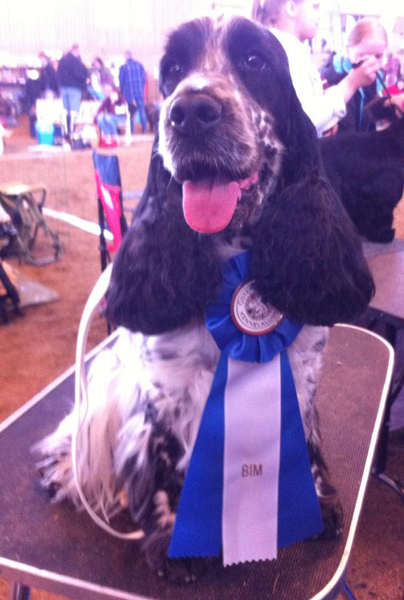 ---
10 March, 2015
What a lovely day we had at Sunday's SSRK Championship show in Moheda! Not only was the sun shining, Rosie once again showed her socks off. Third time out in Champion Class (3 entries) resulted in a first place with CK and - as icing on the cake - second Best Bitch! Today's judge was Mr Kjell Svensson, who judged the breed at Championship level for the first time.
Now we're in training for our exciting trip abroad in May, hoping to get her penultimate CACIB!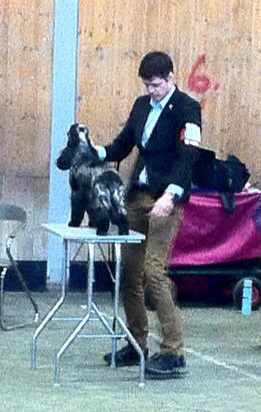 ---
11 February, 2015
First show of the year - SSRK Championship show in nearby Mjölby. Rosie was shown in Champion Class for the second time and restored her honour by being graded Excellent and awarded CK with a most flattering critique! I didn't mind that she wasn't placed. Ms Sara Nordin was judging, she was the one who gave Rosie her Swedish CAC in 2012.