Art-Wave's Betty Crocker
Details - Sheena

Born 9.6.2010
Reg. No. SE42734/2010
Blue roan bitch
Sire: GB SHCH SE U(u)CH Kyna G I Joe
Dam: Mistily's Happy Go Lucky
HD: C, Eyes Clear (2011)
FN Clear
BIS placed Puppy (SSRK), Excellent
New owner: Miss K C Hager, UK
Sheena is the first of my dogs ever with a show champion parent! Her pedigree is mainly British with a touch of Australia, distantly linebred to Bitcon Troubador and Glowhill Appollo Severn. Her sire is one of the most beautiful Cocker dogs I have ever met!
She's very bright, bold, outgoing and learns quickly. In a true Cocker manner she happily eats almost anything and bounces across the lawns at full speed! Playing with other dogs is not too bad, either.
In August 2014 she moved to my sister and her family outside Cambridge, United Kingdom. There she's enjoying family to the fullest with kids, cats and doggy mate Teddy (a Chihuahua-Westie mix).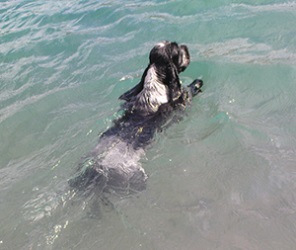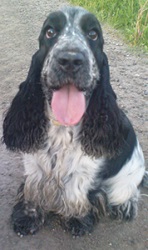 Related links