Mainel's Choc Ice Symphony
Details - Sharon

Born 24.12.2000
Deceased 24.1.2014
Reg. No. N02195/01 (S24712/2001)
Chocolate bitch
Carried Golden, Roan
Number of Litters: 1
Sire: Skjervtun's The Gambler
Dam: Mainel's Eastern Symphony
HD: B, Eyes: Clear (2005)
prcd PRA Carrier
Lived with C-G Johansson, Landvetter
Sharon was my first (and much awaited) bitch and the reason I endured all those night shifts at McDonald's. She got her name from one of the main characters - Sharon "Shal" Theodopolopoudos - in my favourite British comedy series Birds of a Feather. That is the reason her puppies were named after "BritComs".
She came home to me on 24 February, 2001, at the age of nine weeks and naturally had difficulties understanding why nobody wanted to play with her at 8 am on Sunday morning; rising early wasn't really my thing back then. At a very early stage she made it quite clear to other dogs that they should stay away from me. However, I managed to get the situation under control and she eventually accepted that Bruno was around too. Leaving her alone - especially in unknown places - was always very difficult.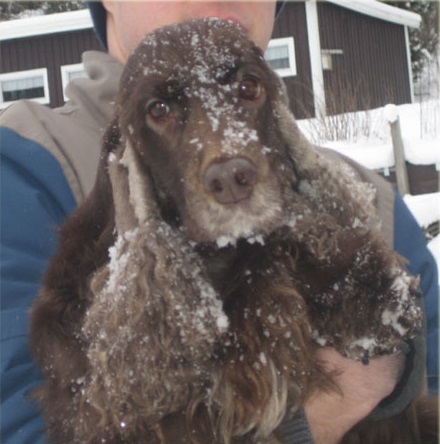 She was very much an Alpha Bitch and could be trusted off the lead in most places. Other dogs and people were of no interest to her and she rarely initiated contact. However, she did walk around with a wagging tail most of the time, in true Cocker spirit. I would describe her as intelligent, agile and persistent. I remember one time when we were riding in another breeder's car. The person in question wanted the dogs sit behind a grid in the boot and not in the front seat with me. "She won't stay there", I said. "Rubbish", replied the breeder convinced Sharon wouldn't be able to get past. A few minutes later, who did you think sat on my lap? The breeder was baffled and exclaimed "None of my dogs has ever done that"!
She was horrible as a puppy! Chewing on things was her speciality: rugs, towels, the wallpaper in my bedroom (!), the cords to both the alarm radio and the computer keyboard fell victims to her teeth before I realised I should give her a BONE! She was always full of energy. One of her favourite games was running round in my flat; starting in the hallway, accelerate towards the sofa, take a giant leap onto the sofa, turn back and start all over again. She would do this for a while, quite an amusing sight! Outdoors she would run around in ever smaller circles like a maniac, eyes and mouth wide open, tongue hanging out and barking.
In the autumn of 2008 she moved to my Dad's outside of Gothenburg to live as a single dog. There, she would often go with him to work, riding in the car and walk off the lead - basically enjoying her final years. They got five and a half years together - something I'm most grateful for!
Related links