Imokam Andalusí
Details - Bruno

Born 3.5.2001
Deceased 25.8.2012
Reg. No. LOE1267112 (S35358/2002)
Chocolate dog
Sire: Sprogmore Magnum
Dam: Gitana de los Ombúes
HD B, Eyes: Miscellaneous partial cataract (2011)
prcd PRA Carrier, FN Clear
4 CK, BIS placed Veteran SSRK
Bruno is owned in partnership with breeder Ana Herrera, Spain, to whom I'll be forever thankful for entrusting me with this lovely gentleman!
He arrived in the evening on December 20, 2001 aged 7.5 months. All of those who meet him soon realise that he has a big heart and he really likes to be cuddled by anyone who finds the time to. Bruno is the only one in the gang who snores when still awake! Apart from this, he's extremely quiet, may bark a few times when the doorbell rings, but not at all as much as the others. He's very gentle with puppies (especially his own and those born here at home) and with adolescents he can be quite firm but never too rough. Swimming in the lake or walking in puddles is beyond him (sadly)!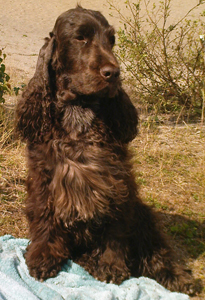 In his youth he liked to chase birds and once he started to look for them there was no getting through to him! As a he grew older he calmed down quite considerably. In our old flat Bruno used to balance on the top of the back of the sofa! Bruno's No. 1 passion in life is without a doubt FOOD! Whenever someone gets up and goes into the kitchen, guess who's right behind! He will also use his paw to get your attention in the morning and 2 h before dinner. 'Mr. Mischief' ought to be his middle name: in his search for food he has climbed tables and managed to get hold of things he's not suppose to: vitamin pills, cork mats, drawing pins and a box of chocolate!
Bruno sired some very nice quality puppies. The most successful of them is without a doubt
MULTI CH Blue Runes Ghost of a Rose
.
Related links